One night years ago the two bands threw a party and drank beyond all limits. "The Guns had challenged us in a drinking contest – said Tommy Lee – and we thought" here, another band wants to try to hold on to us ". So we started drinking sitting at the bar all together, Slash, Duff McKagan, myself and Nikki Sixx, one glass after the other, continuing indefinitely.
Suddenly Slash started feeling sick and started throwing up, repeating "Ok, ok, I'm fine!". Despite the effects of alcohol, the four musicians did not stop: "We continued again, again and again … – continued Tommy Lee – then, perhaps after about a million drinks, Slash threw up on the counter again and collapsed. Definitely. Eventually Nikki and I picked him up and took him back to his hotel room. He took the keys from his pocket, we opened the door and put him in bed ".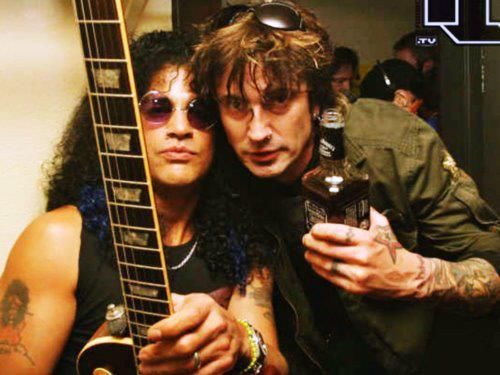 "At that point we both knew that the occasion was too good and we absolutely had to do something. We had a camera with us and we thought we could play a trick on our friend "- the drummer continued -" Nikki jumped on the bed, pulled down his pants and put his balls right on Slash's chin and I took a picture. The next morning the head of our security went to Slash, took his artist pass and gave it back to him with a new photo, that of him with Nikki's balls on his chin! Not happy we made posters with that photo and we stuck them everywhere. I think now the Guns will think twice before challenging us again in front of the counter! ".
In recent years, the Mötley Crüe have returned on the cutting hedge also thanks to the sensational success of the film "The Dirt" which tells their story. Through this film many young people were able to get to know the music of the band: "I continuously talk with people, with our fans – commented Tommy Lee – This film brought everyone back to that era, which was truly absurd and unrepeatable, full of episodes like the one with Slash. Everyone was actually part of it, without Instagram, without smartphone cameras. Today this is no longer the case ".